Jamal Kazura Aromatics is one of the most famous perfume shops in Singapore. It is no stranger to anyone who is even remotely familiar with the area of Sultan Gate. Tourists flock to the shops by day, drawn in by the rich heritage and tradition surrounding Jamal Kazura's perfumes. We had the rare opportunity to meet the man himself – Mr. Jamal Kazura, the second-generation owner of the original shop set up in 1933 by his father Mohamed Hanifa Kazura.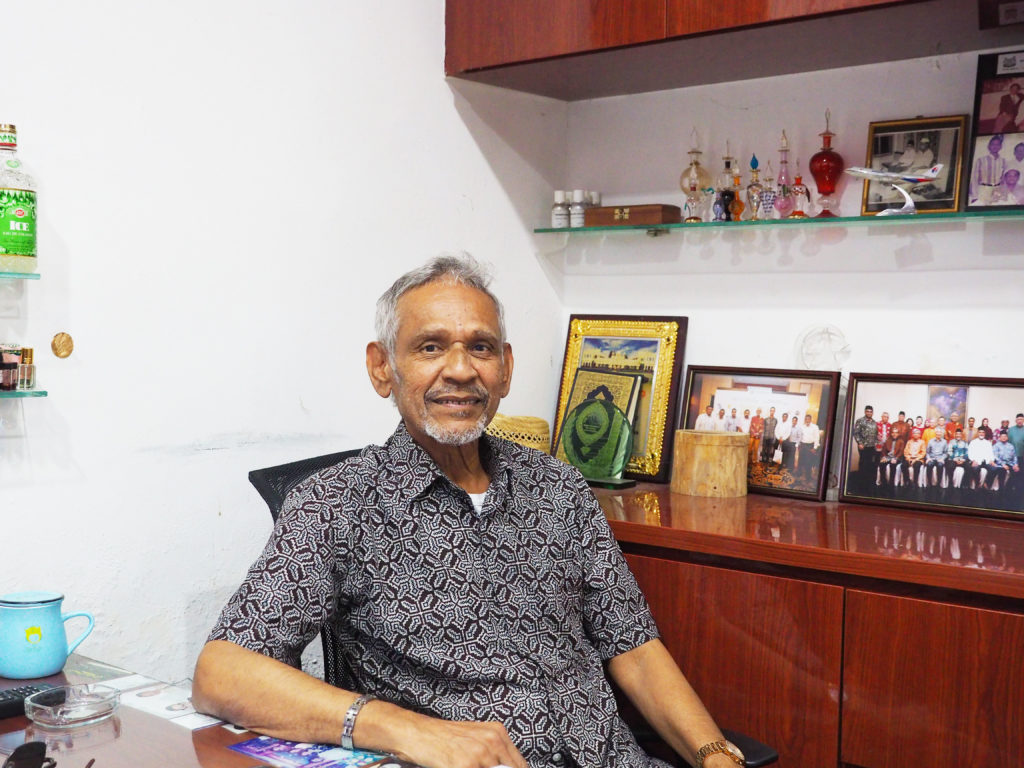 Meeting him, I had the sense that I was meeting an accomplished, successful, and self- assured man possessed with an acute business acumen and a deep understanding of tradition. His shop is filled with over a hundred different scents, and he laughs as he says that his nose is his biggest asset. Growing up alongside his father and observing him work was certainly a huge influence too.
Mr. Kazura explains that Muslims cannot use alcoholic perfume due to religious reasons, but he wanted to create a non-alcoholic product that still smelt like the Western perfumes. That, he asserts, is the reason behind his popularity with international visitors. His perfumes still respect tradition but has been adapted to the changing times. From talking to him, I realised that his decision to do so was a means to share to a wider audience the tradition and heritage behind his perfumes. That then is his greatest success.
Mr. Johari Kazura is the grandson of the founder and son of Mr. Jamal Kazura, and he runs his own perfume business, Sifr Aromatics. He decided to break away from the family business as it was becoming all too famous, and he wanted a way to differentiate himself from his father. And so, he started Sifr Aromatics, a modern take on traditional non- alcoholic perfumes. Walking into Sifr Aromatics, one is struck with a sense of wonder and enchantment. With its midnight blue walls, vintage-style French perfume vials, solid wood fixtures and rich scented candles, it isn't difficult to see why.
Mr. Johari revived some of the handmade products that his grandfather sold, such as candles, salves and balms, except that he uses organic butters and exotic oils like argan oil. Perhaps the most unique feature of his business is that it offers a fully customised perfume of your own choice. Simply book an appointment, walk in and describe the scent you wish to infuse in a bottle, and he will certainly help you do so. It is an enchanting service, one that truly showcases the artistry behind perfume-making, an artistry that is often forgotten in today's commercialised perfume business industry.
Written by : Stephanie Heng